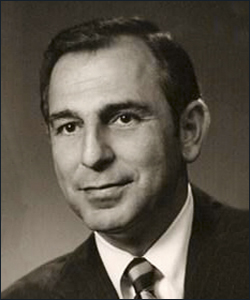 ELLIOTT D. CHIELPEGIAN
Chielpegian·Cobb was founded in 1979 by Elliott D. Chielpegian, who practiced law in Fresno for over fifty years. The firm originally started out as the Law Offices of Elliott D. Chielpegian, and then more recently was known as Chielpegian Law Offices. Elliott considered his chosen profession an important one, and he took his responsibilities as an attorney very seriously. To Elliott, being a "good lawyer" - i.e., one who combined skill and preparation with high ethical standards - was paramount.
Upon his graduation from the University of Santa Clara School of Law in 1960, Elliott returned to his hometown to practice law at a local, well-regarded law firm. He made partner, and the firm eventually came to be known as Helon, Manfredo & Chielpegian. He remained there until 1979, whereupon he started his own firm.
Chielpegian·Cobb's current areas of expertise essentially mirror Elliott's practice. As a civil litigation attorney, he handled personal injury and wrongful death matters and litigated business disputes. Elliott also represented individuals and companies in a wide variety of transactional matters, including but not limited to business entity formation, contract drafting and the like. He also performed estate planning and probate and trust administration services for his clients.
Elliott enjoyed a longstanding AV rating from by Martindale-Hubbell.
In 1997, Mike Chielpegian returned to Fresno to practice law with Elliott and to further develop the firm's transactional and estate planning practice. Mark Chielpegian, a litigator, returned to Fresno in 2002 and, at Elliott's insistence, the firm's name was then changed to Chielpegian Law Offices. Lee Cobb joined the firm in 2007, and the firm originally started by Elliott is now known as Chielpegian·Cobb. Elliott remained an active member of the firm until his passing in late 2012.
Despite his absence, Elliott's influence over the firm continues. Chielpegian·Cobb's attorneys continue to emphasize skill, preparation and ethics in their representation of their clients.